More and more companies have been running digital marketing and advertising campaigns for their businesses. Thanks to the popularity of the internet and social media sites, these platforms have been one of the sought-after places for advertisers and marketers to run their ads. Content is still king and one of the most popular ones right now is video. YourFilm has been one of the go-to video production companies in the UK and we are here to help!
Founded in 2005, our full-service video production agency has been developing and crafting original outputs for our clients. From page to screen, you can count on us to deliver a high-quality video production service. As a matter of fact, we've been recently named as one of the leading video production companies in the UK by a company named Clutch.
If this is the first time you are hearing about Clutch, they are an established platform in the heart of Washington, DC, committed to helping small, mid-market, and enterprise businesses identify and connect with the service providers they need to achieve their goals. Check out our reviews and services on Clutch.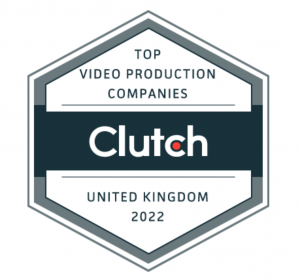 Of course, would like to take this opportunity to express our gratitude and appreciation to our clients who supported and believed in us! You've been integral to our success and we wanted to reciprocate this support by dedicating this award to all of you.
Here is our Co-Founder, Matthew Newman, to officially receive this award:
"We're delighted to receive the Clutch award for customer service, creative solutions, and project success. Our entire process is focused on getting solid results for our clients through creative solutions, so to be recognised for that is fantastic!"
Let's make your project into reality! Connect with us today and let us know how we can help.